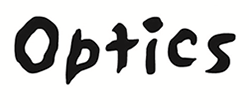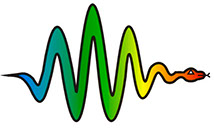 Founded in 2001, Swamp Optics offers recently invented innovative and cost-effective devices for measuring (and compressing) ultrashort laser pulses. We specialize in frequency-resolved optical gating (FROG), the most robust and reliable method for measuring the time-dependent intensity and phase of an ultrashort pulse. FROG is rigorous, general, and relatively simple to implement, and it has become a very successful technique, and it has played a key role in ultrafast-optical research since 1991.
Swamp Optics' founder is Rick Trebino, the world's leading expert in ultrashort-laser-pulse measurement and the Georgia Research Alliance-Eminent Scholar Chair of Ultrafast Optical Physics at the Georgia Institute of Technology.
Professor Trebino is the co-inventor of FROG and the inventor of GRENOUILLE and a host of other clever techniques for measuring ultrashort laser pulses. He has received wide recognition for this work, including the SPIE's Edgerton Prize for developments in ultrafast measurement technology, an R&D100 award, a Circle of Excellence Award, and a Prism award. He is a Fellow of the AAAS, APS, OSA, and SPIE.
Our "stuck in the 60s" ads from the summer of 2003 turned out to be very popular. If ever a field is stuck in the sixties, it's ultrashort-laser-pulse measurement. In 2003, we went after autocorrelators, which were still inexplicably popular. Now, more than a decade later, even more ultrafast people are stuck in the sixties, this time measuring only the infamous coherent artifact--an even more serious sixties problem. In any case, many people have asked for copies of our ads, so we're making high-resolution versions of them available here. Feel free to send them to your friends. Click on an ad's thumbnail image below to see and download an HD version.
Due to popular demand, we've made available Swamp Optics T-shirts and other items that sport our cute logo with the ever-popular, definitively true statement "Size doesn't matter. It's how you measure it." Show off your affinity for quality, honest ultrashort-laser-pulse measurement in style, with a spiffy Swamp Optics T-shirt, coffee mug, or mouse pad!
There's a lot more available at Swamp Optics' Cafe Press page. We make no profit on these items; we just think they're cool.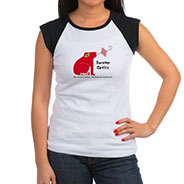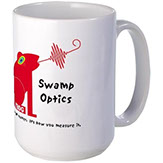 Copyright © 2003-2015 Swamp Optics, LLC. All Rights Reserved.